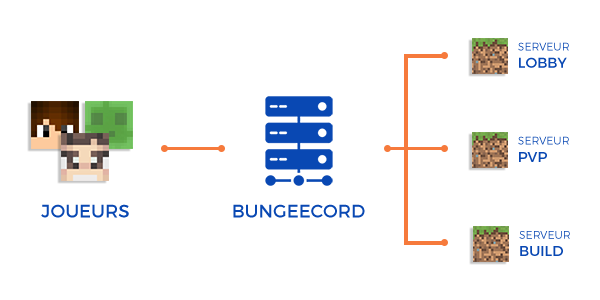 Bungeecord server rental
Bungeecord allows Minecraft server owners to create a proxy in order to link multiple servers together. For example, you can set up a lobby that will then redirect your players to other servers.
Ensure the success of your Minecraft project
At Hosterfy, we help our customers to build their project, develop their community. Linking your servers together with Bungeecord is a great idea to keep your players, and we will always be there to give you valuable advice. Put all the chances on your side to ensure the success of your Minecraft project, choose an experienced hosting company that really listens to its customers.
A successful network means happy players
Get dedicated RAM on your Bungeecord hosting in order to have the best performance, as well as high speed SSD drives to ensure constant fluidity. A performing network means happy players to stay on your server.
Priority customer service
Our teams will always be available to help you configure your Bungeecord and link your servers if needed. We are also ready to give you a multitude of advice and answer your questions with the sole purpose of ensuring the success of your Minecraft server.